A content audit is a powerful way to make your website's content highly relatable. In this post, we are sharing some cool techniques which help you conduct thorough content audit of your website (or website network)
In simple terms, a content audit helps perform a thorough quality analysis of your website. In slightly more complicated terms, it means you will see a few key performance indicators i.e. factors which you think your website should satisfy. Then you will test ALL of your website's content against these KPIs.
So, what is Content Audit?
The goal of the content audit is to get a report of your website's content quality. You don't review web hosting providers; it is just like the annual maintenance of your car, except we are doing it for your WordPress website. What does this actually mean?

From an SEO perspective, it means that content audit will give you detailed information about:
Articles that lack focus keywords
Articles that don't have keyword-optimized description
Articles with very low keyword density
Articles without alt text in images.
But what we are describing in this article is not just beneficial for SEO purposes; Content Audit offers numerous benefits for your content as well. It will help you in following ways:
You will find such articles with poor writing quality or low relevance so as to remove from your website
You can discover articles or pages that can be merged because of similar content
You can also find such reviews whose products have evolved but their review on your website still talks about the older version of the product.
By pruning out low-quality content, you are reducing the risk of serving poor user experience to your visitors.
Getting started with Content Audit
There are two types of "audits". One is technical SEO audit and the second is what we will be focusing on - the content audit.
A technical SEO audit will focus all URLs that can be crawled by Google. Now, not all the URLs that are crawled are also indexed. For example, "rel='canonical'" links and 301 redirects. Google crawler will crawl these URLs but won't index them.
In a content audit, we focus only on those crawled URLs that are also indexed. Hence, the number of URLs in a content audit is lower than in a technical audit and it also doesn't utilize as many system resources.
The first step of content audit is to build an inventory of the website. We will gather the data about ALL the URLs of your website in a spreadsheet. Make sure you choose a reliable spreadsheet program that can handle the volume of data for your website.
Setting up the content audit spreadsheet
For our guide, we will use the simple Google Sheets interface. For creating a new spreadsheet with Google sheets:
1. Visit drive.google.com and login to your account
2. Click New>Folder. Then give your folder a name,
3. In this new folder, click New > Folder >Google Sheets>Blank Spreadsheet. An empty spreadsheet will open in a new window. Give the spreadsheet an appropriate name.
4. Create these columns on the first sheet
URL
Date Audited
SEO
Readability
Internal Links
Last Updated
This final sheet looks something like this:

For each URL, we will test all the factors and mark each of the columns by changing the background color to any "green". You can also try converting each column value to the checkbox.
Populate the website inventory on the sheet
There are 3 ways to gather all website URL and add it to this sheet:
Use a third-party tool like Screaming Frog
Use Google Analytics
Manually scrape all URLs from WordPress
Screaming Frog (and other similar tools) are either paid or offer a very limited number of free URLs. Manually scraping all WordPress URLs is a cumbersome job. So, we will rely on good old Google Analytics.
1. In the left sidebar, click Behavior >Site Content >Pages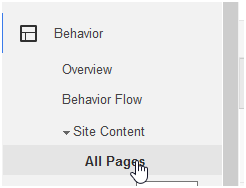 2. Scroll down and locate the Show rows drop down and increase the number of rows to 1000 to display the report for all website URLs.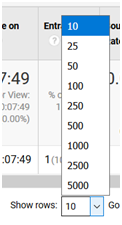 3. Scroll back up to the top and click Export >Excel (XLSX). This exports all the website data to Microsoft Excel. The file gets saved to "Downloads" or your browser will ask you for a location to save it (depending on your settings).
4. Open the downloaded excel sheet and navigate to the "Dataset 1" tab.
Next, we will do some data filtering to get only a list of all URLs.
5. Delete the first row and all other columns except the URLs.
6. Use the CONCATENATE function of Excel to add your website home URL as the prefix
=CONCATENATE ("http://yourwebsite.com", A1)
Paste this formula in B1. If the column names are different on your sheet, then replace A1 with the cell number of the first URL and paste the formula in the next cell. Replace "your website" with your own website name and press Enter.
This changes the relative URL to the full, absolute URL. To filter rest of the URLs like this, simply drag the formula to the last URL to apply it across all the rows.
To quickly follow each link, we will need to convert them into hyperlinks.
7. Use the HYPERLINK function of Excel to convert the URLs to hyperlinks.
=HYPERLINK (B1)
Paste this formula in cell C1 (change the cell number if your sheet has different row numbers)
Now drag this formula to the last row to convert all URLs into clickable hyperlinks.
8. Finally, copy the URLs from this Excel sheet to the first Google Sheet we created.
This completes the content inventory gathering process for our website and now we can start doing some real content audit.
Start reviewing each column
Fortunately, we can check a lot of important fields at once through the Yoast SEO plugin. The current version of this plugin (v5.8 at the time writing this article) is THE best WordPress plugin you'll ever find for on-page SEO.
If you don't have Yoast SEO installed, make sure you install it on WordPress before you begin this review. After we have installed and activated it, the Yoast SEO panel will be activated at the bottom of each post editing page.
For each post, there are two main tabs: SEO and Readability. Yoast will check against the most standard on-page and readability rules respectively. If your post follows all rules, it will give you a green signal.
SEO Optimization
For those who are new to blogging, often struggle with SEO implantation. To get started, you need to set your primary keyword in Yoast SEO tab for each post. Its on-page SEO function will check for:
Uniqueness of the keyword
Keyword density in the post
Keyword in the headings
Length of post and the title
Number of internal and outbound links
Meta description
Yoast SEO panel gives full clarity to each rule. If it is currently showing red color for a rule, follow the instructions in that rule to turn the red to a green signal.
The overall green signal for the entire SEO tab will depend on therelative importance of each rule. So, it is possible that overall SEO signal is green but you might still see a few yellow rules.
Follow these on-page SEO rules for the current URL until the tab gives an overall green. Changing the URL of the page can be risky if the article is already popular. Visitors will see a "404 Error" page when they click the old URL. So make sure you set up a 301 redirect from the old to the updated URL before makingchanges to your website URL.
Readability Optimization
Now, switch to the Yoast Readability Tab and follow each rule until it gives you an overall green.
Yoast also shows an "eye" symbol next to some of the readability rules. Clicking the eye symbol will highlight the sentences in the entire post where that rule is being violated. Just drag up and check if you notice any purple highlights (for any rule violations).
Optimizing Internal Links
Each internal link indicates a supporting article which the visitor can read on your website. The higher number of internal links in a post the more relevant your website is for the visitors.
For optimizing internal links, enter the primary keyword of the current post and search for relevant posts on your site. Look at each post in your website search results and check which of these can be linked to your current post.
Keep in mind that too many interlinks may disrupt the user experience because they might never return to the original post if he clicks an external link.
Checking for content update opportunities
Reviews often need to be updated. So, check on the last updated date for the post and see if the content requires any change or additions.
Summarizing Content Audits
With a content audit, you are working on fixing your on-page SEO. Within a few days, you should see a significant increase in your rankings and a decent traffic boost as well.
Have you learned any new technique for content audits? Do share your experience with us in comments.