What is a secret worth if everybody knows it? The secrets listed below have a great deal of value because people ignore them. Such an occurrence happens all the time, just take real life for instance. How do you achieve wealth? Simple, you work hard, you work lots, and you save rather than spend. We all know it, but how many people do it. How do you lose weight? You eat a balanced diet, you eat only what you need, and you exercise frequently. Surely everybody knows this, but so many people ignore this secret to weight loss success that the US has the highest number of obese people of any country in the world. Maybe you do know the landing page design secrets listed below, so allow this article to remind you to act upon what you know.
1 - Answer The Assumed Question That Inspired Your User's Visit
The most powerful landing design secret takes its place at position number one because it is so complex that it is often ignored as being indefinable. After all, how can you second-guess the thoughts of every web page visitor?
If you want to fully exploit this landing page design secret, then keep it as simple as possible. For example, if your affiliate advert promises a 20% reduction in the price of a product, then make sure the offer itself is the first thing the user sees when he or she visits your landing page. Structure the page so that the answer to the visitor's query is the first thing he or she sees.
If the reason a user visited your page is beyond your capacity as a content creator, it doesn't mean it is above your capacity as a landing page designer. If you cannot answer the question that invariably led your user to your page, then order the content from another source. Some of your readers are more advanced in their field than you are, in which case, get help.
2 - Forget Load Time And Concentrate Strongly On Use-Delay
The seconds between render and page use are exceptionally important these days. This is partially due to the increased required bandwidth that modern websites demand, and it is also due to the massive popularity of web browser add-ons. Many people are woefully unaware of the sheer number of extensions that are currently enabled on their web browser (usually because of bloatware they unknowingly agreed to). Such add-ons do not slow load or render times, but they do lower the time it takes before a web page becomes usable.
Sadly, this article cannot fix this problem for you. It is your duty to test your web page on as many devices as possible. Time how long it takes from the link being clicked to you actually being able to scroll the page down or click something. Forget looking at your loading time analytics because they will not correctly represent the time between the page render and page use.
3 - Try To Re-Use The Anchor Text Question Or Wording
Give people something they recognize when they land on your web page. If you are the content creator as well as the page designer, then give people something they recognize so that they feel a little more secure when using your website. As a page designer, you may format and brand the web page to suit this human need for familiarity.
4 - Evolving Landing Pages Is Why There Are No Long-Standing Landing Page Design Tips
Landing pages are changing all the time. The way they look, the way they work, and even their intrinsic functions are evolving all the time. That is why some of the most long-standing landing page design tips are not applicable today. Even the basics are coming under fire such as the "Three click rule." These days, Google does all the work for you. People often find it easier to navigate to your web pages via Google than they do to find pages through your website.
Take the example of the iTunes store. Search for an app on Google with the words "iTunes" in the query, and then search for the app on the iTunes search bar alone. Most times, you will be sent directly to the page via Google much faster than if you search for it via the iTunes search bar.
5 - Concentrate On Easy-Of-Use When Building Templates
Create a template first and then apply your template. Make your web pages easier to use. Even this article makes use of headers, images and shorter paragraphs. Can you imagine how unusable this web page would be if all the text were crammed into one web page?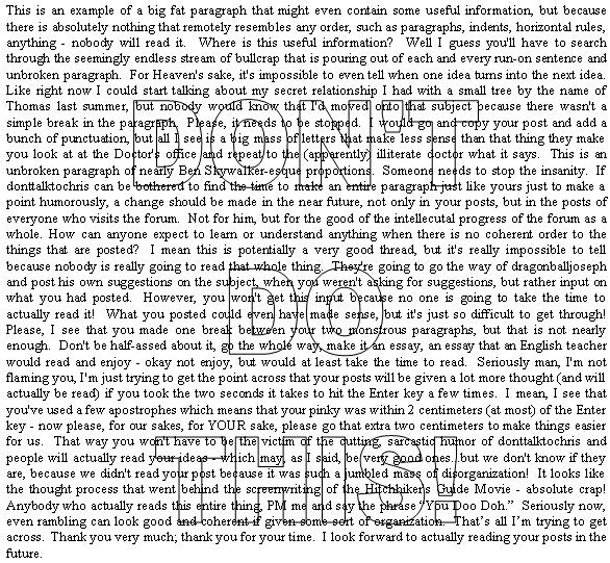 6 - Ignore What People Consider To Be Trust Signals
Articles of this nature often advise you to use trust signals, such as the ones in the image below. It is imperative that you ignore their advice. Trust signals have been used by rogue sites so often that people have begun to distrust them. In fact, their extensive use in rogue or malicious sites now makes people suspicious when they see trust signals on regular websites. If you doubt the fact that trust signals do not work, please read the University College London paper on trust seals.

Conclusion - Rely On Your Experience And Ignore Instincts Now And Again
Nobody is saying you should ignore your instincts when creating your landing pages. Current data, trends and opinion polls may suggest that your new landing page design is perfect, but if your instinct says otherwise, it is wise to follow your gut. Nevertheless, your experience will teach you more than gut feelings too. If you have to choose between a decision that experience has taught you is wrong, and the instinct that something is right, go with your experience. Design and content creating experience is very valuable because you will be surprised how often history repeats itself.