WordPress comes with highly-scalable, impeccable, and user-friendly tools and functionalities to help people create professional websites from scratch with ease. The inbuilt capabilities offered by this CMS platform makes it super easy for beginners to start off their web development and customization journey on the fly. However. there are many website builder tools and CMSs available on the web market, but WordPress is the most preferred tool for building different types of websites.
Being a site owner, you have full control over your website. You can make changes to your site's design, extend the functionality, and also manage the user roles and permissions of your site directly from your WordPress admin panel.
Yes, WordPress has an inbuilt user role management system that lets you know the roles and permissions of each user on your WordPress site. This functionality will help you manage multiple activities of your site for the sake of security and accessibility. The WordPress website tasks including:
Executing administrative tasks,
Adding, editing, writing or deleting the tasks
Approving posts and pages
Upgrading themes and plugins
Upgrading WordPress core and a lot more.
This means managing the user roles and permissions of a WordPress site becomes crucial for website owners and administrators. Here in this blog post, we will stumble upon a complete guide on how to manage WordPress user roles and permissions to let you control your web business the way you always wanted.
By default, WordPress comes with five different user roles that help you manage your site activities with ease. So let's get started with the first and most crucial user roles:
1. Administrator Role
An administrator is the one who manages the backend, also known as admin panel of a WordPress site. The user with the administrator role has a full control on a website. He/she can add, create, delete, publish, or modify new posts and pages with ease. Even, the admin user can edit or delete the posts of others, without taking their permission.
Being an admin user, you can also install, customize or even delete the themes and plugins available on the site. Adding new users or changing user login details also come under the administrator user role. So, it's better for a website owner to keep this user role under their hood – no matter how small or large your website is.
2. Editor User Role
Those who have editor user role can manage all the content sections on your WordPress site. They can create, add, publish, edit or delete any post on your site. They can even edit or delete posts other users.
Besides posts, they can moderate, delete or edit the comments on your WordPress site. But they don't have a permission to change the other settings of your site like, adding new user, installing new themes or plugins, etc.
3. Author User Role
If you are designated for the author user role, then you have the full access to write, add, edit or publish your own posts. You can even delete your unpublished as well as published post from the site itself.
Although you can write posts, you don't have a permission to create categories – you will need to choose from the available categories. But, yes, you can add tags to your posts.
You can see your comments, even the pending ones, but can't approve or moderate them, which becomes quite annoying sometimes. You don't even access the settings of a site.
4. Contributor User Role
Those who are working as a contributor on a WordPress site can add and edit their posts, but, they don't publish them.
They can't create new categories for their posts. Even, they can't upload files (images) on their own posts – which is one of the biggest downsides of contributor user role. But, yes, they can add tags to their posts to make their work more searchable on the web.
While contributors can see their comments both the approved and moderated ones, they can't approve or delete them from the site. Even, they don't have a permission to change the settings of a site, installed themes and plugins.
5. Subscriber User Role
The role of a subscriber user is very limited. They can only login to a WordPress site and update their user profile. They can also tweak their passwords but can't do anything beyond this.
They can't write/edit/delete posts, view comments, access the settings, install or update themes and plugins, etc. They don't have the permission to do all these things.
Why to Modify the default user role and permission settings?
However, default WordPress user role and permission system are pretty good to manage a website, but you can't change the settings as per your specific requirements. For that, you will need to manually modify the specific user roles and their permissions to further enhance the management of your WordPress site. Well, customizing the default user roles and permissions manually are not at all easy, especially for those who are not tech-savvy.
In case, you are hosting a multi-author site, you will need to control all the posts of your multiple authors, their permissions carefully. Since the author has a full control on their posts, he/she might delete their published post if something went wrong between you and your paid authors. This means you will need a more secure and controlled system to manage your user roles and permissions.
Apart from this, your contributors also can't upload any media files to their own posts. This can also disturb your editorial process. So, make sure you strengthen the user role and permission settings on a WordPress site using the User Role Editor plugin.
How to use "User Role Editor plugin"
Change your default user role and permission settings using this powerful WordPress plugin. It lets you create, edit and delete any user role(s) from your site, without any technical assistance. All you need to do is to download and install the User Role Editor plugin into your site.
Once downloading and activating the plugin, you can change its settings under the User Menu Section in your WP site. Now, you will see all the existing user roles as well as a custom role with their determined capabilities.
You just need to load a specific user role to know their capabilities and assigned roles – what they can access or what they can't. Now, you can change their permissions as per your specific requirements. For that, you will need to check/uncheck the field for that particular permission.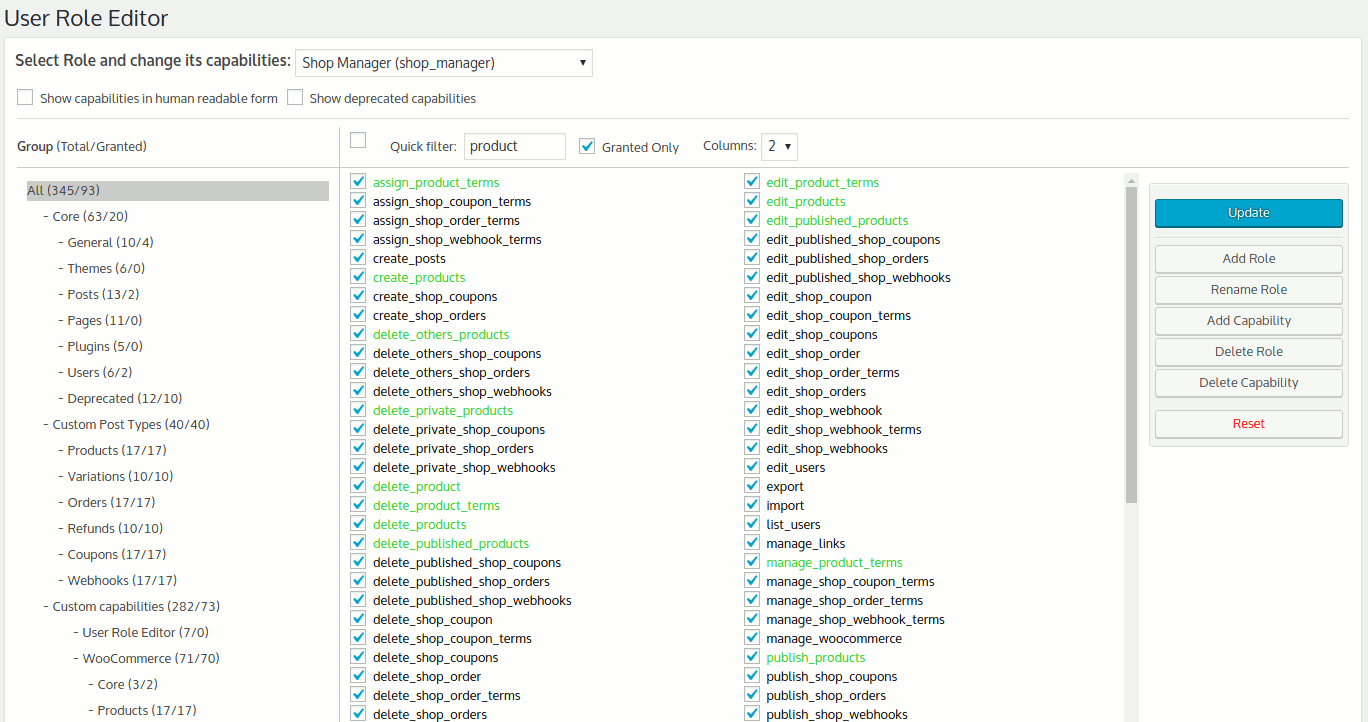 You can even add or delete the user roles and capabilities using this plugin. You can add a new user to your default list just by copying all the permissions from that particular user role for whom you are creating a user role.

If you want to add/edit/delete new capabilities for a particular user role, you can easily do it using User Role Editor plugin. It can also help you manage your user role management system efficiently – you don't need to worry about it at all.

Conclusion
Understanding the concept of WordPress user roles and permissions is very simple. With the help of this guide, you will be able to manage your WordPress site, multiple tasks, responsibilities, and permissions more effectively and efficiently. In fact, you can customize this particular system using the User Role Editor plugin to manage the back-end of your WordPress site with more adherence.