What will be a better option for my future site - a free or a premium website template? There's the ongoing dispute in the web community as per the best foundation to create a website. Freebies lure many of us due to their free nature. What if someone told you that building a site won't cost you a single dollar? Will such an opportunity grab your attention? I believe yes. However, choosing a freebie we often forget why experienced webmasters prefer premium website templates. The purpose of writing this blog post is to discover why premium wordpress themes for graphic designers are better alternatives to freebies.
WordPress is a free content management system. Presented as a purely blogging tool, it revamped in the powerful web platform suited to build online projects of any difficulty. WordPress is known as a powerful and reliable web solution that is proud to have a vast community of web designers and developers. Coming across a ready-made theme for any niche-specific project is not an issue any longer. There are plenty of free and premium themes that you can work with. But what makes premium products better than freebies? Let's find out.
Tech Support
Quality technical support is one of the top reasons to choose premium WordPress themes. Very often customers have questions about the performance of the ready-made designs that they downloaded from the themes providers. Expert technical support crew can be especially useful whenever a client has some issues with the installation or modification of the selected theme.
Regular Updates
WordPress engine keeps on updating and enhancing all the time. So, it's no doubt that you need a WordPress theme that is up-to-date and matches the contemporary web standards. Unfortunately, free themes do not come out with new or updated versions. That's not the case with premium themes. As a rule, paid solutions are updated frequently. Building a site with a premium theme, you get a product that will remain up-to-date for a lifetime. The updates roll out automatically. As the site administrator, you need to confirm whether or not you accept the new version of your premium theme.
Unique Design
It's more likely that your website will look unique when built with a premium theme rather than a freebie. Pretty themes feature pretty basic designs. Those freebies that look more appealing than others are likely to be downloaded more frequently. So, if you want your site to look unique, then choose a premium theme. Paid solutions include a wider choice of customization options and design elements. This allows you to personalize the chosen design the way you desire and make the design reflect your brand identity perfectly well.
Pro Customization Options
Premium WordPress themes are integrated with the advanced functionality, which differs from one themes provider to another. Managing complicated coding is not the thing that all customers can handle. During the last several years, drag-and-drop page builders gained great demand among the developers of premium web themes. This allows a client to modify the chosen ready-made layouts without any special coding skills.
For example, Imperion WordPress theme is a multipurpose solution integrated with the advanced Elementor page builder. With its help, you can tweak the pre-designed pages as you simply drag and drop various elements within an intuitive interface.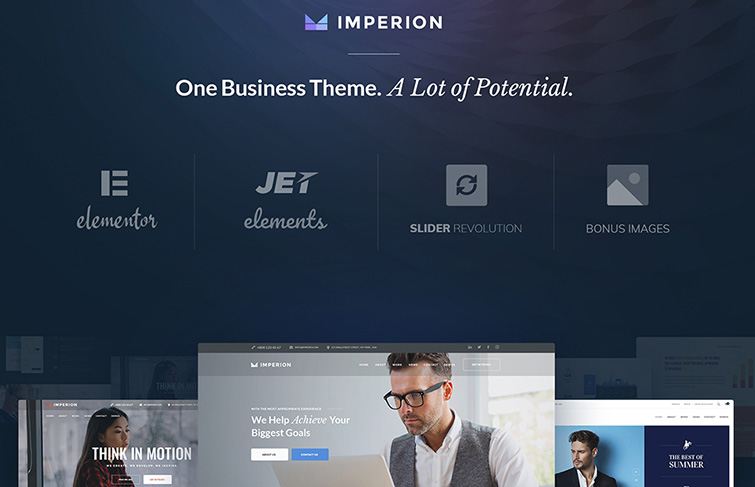 Security
Choosing premium WordPress themes you minimize the risk of facing the security issues that are caused by malicious code. It's no secret that premium web designs are developed with better and more reliable coding practices, which match the modern-day web development requirements.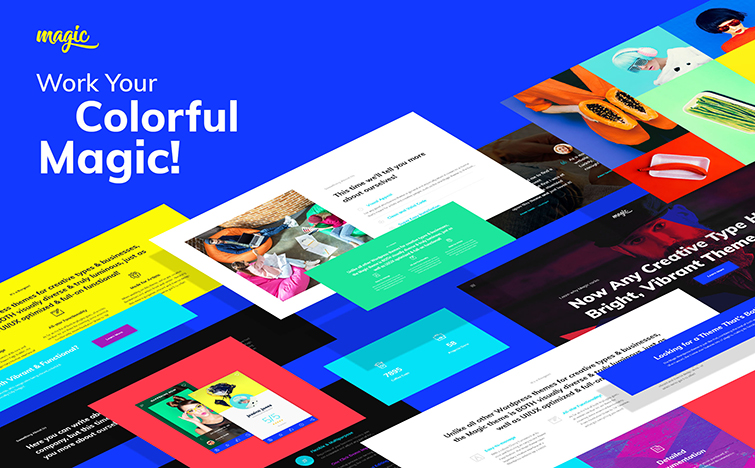 Premium Extensions
Although choosing premium themes you will need to pay some cash, it's worth the investment. As a rule, premium web solutions contain premium modules and extensions. This frees you from the need to buy pro functionality for your site independently, as well as spend time on the search for the functionality that is compatible with the chosen digital product.
For example, JohnnyGo is a premium-quality WordPress theme that is best suited to be used for a number of home services websites. The theme contains a handful of pre-designed layout options, which will suit any business purpose. The theme contains the premium-quality Revolution Slider and JetElements. The latter is a premium extension compatible with the Elementor page builder.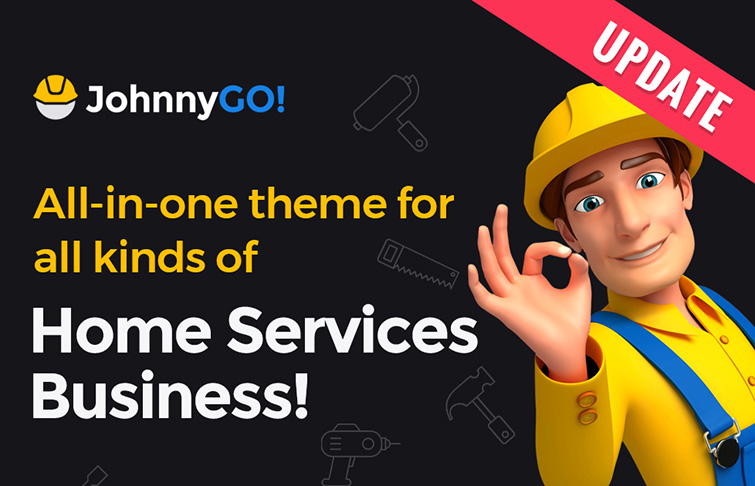 Child Themes
Buying a premium theme you can receive more than one pre-designed web solution. Themes like Monstroid2 contain collections of ready-made child skins, which the theme owners can use at no cost.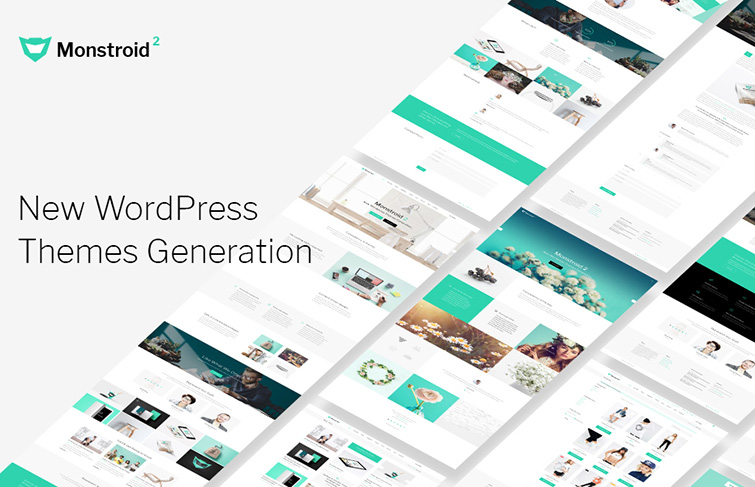 Unlimited Theme Usages
If you choose a premium WordPress theme that is licensed under GPL, you get a unique chance to tweak the source code just the way you desire. Such themes can be installed on the unlimited number of web resources without any restrictions.
Images Included in the Theme
It's important to upload the pages of your site with the quality visual content. Images speak louder than works, overtone knows that. Downloading a theme that includes a collection of high-resolution images is always a great benefit. When you launch your web project, you are likely to lack enough pictures that are relevant to your content. This is when photos stocks come into play. Buying subscriptions can cost you a pretty penny. Free website templates do not include photos. Some premium themes do not provide any either. Still, there are themes like Adverting that provide their owners with free access to a collection of quality images. You can use them on your site the way you desire.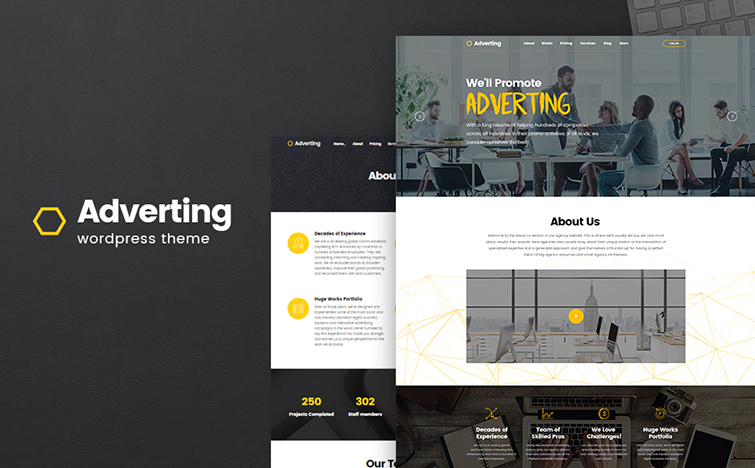 Wrapping up
Premium themes are more powerful than freebies. Choosing a paid web theme, you may be certain that your site will be more protected from the malware, as well as boast a unique style. Working with a premium theme, you do not need to search for the third-party extensions on the web. As a rule, there are fully-fledged solutions containing everything needed to launch niche-specific web projects straight out-of-the-box.