On December 6 ThemeRex released Crypton WordPress theme which turned out to be a major hit.
In about two months the theme was sold 270 times and still counting. It's interesting to get to know that there are already 100 fully-functional blogs built with the Crypton theme.
ThemeREX team itself couldn't imagine that this template would be so much appreciated by the publicity. That is why they decided to make a surprise for every owner of the theme and for everyone who is just about to become the owner.
On January 31 the theme received a major update which now makes this theme not only a blog, but a shop, a magazine, and a coaching website.
As you can see, each of these three skins satisfies the demand for high-quality themes needed for these niches.
If you're a cryptocurrency coach and you need a website, which theme will you choose?
Divi?
Heck no, you will get tired customizing it a week later after the purchase...
If you are making and selling custom mining farm, what platform will you choose for your store?
Shopify?
Heck no, it's for selling push-up bras and puppy clothes.
If you're a cryptocurrency coach, and you need a website you need a website to host your courses and videos, which theme will you choose?
Tribe?
Heck no, you're teaching people how to make tons of loot, rather than how to mom blog.
What we've seen previously?
The first version of the Crypton theme was really nice both in terms of design and functionalities.
There was a bunch of blog layouts coupled with a Cryptocurrency All-in-one WordPress plugin which can show you a sleek currency table.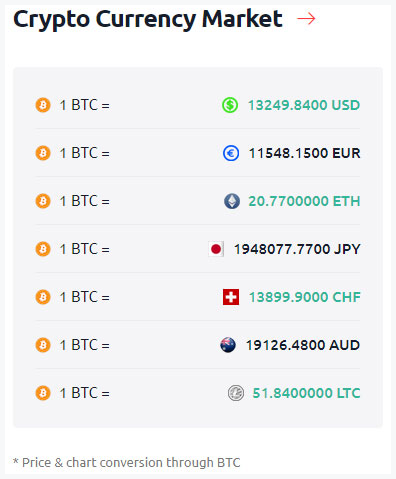 A nicу donation widget, which can be used for collecting money needed to feed your server.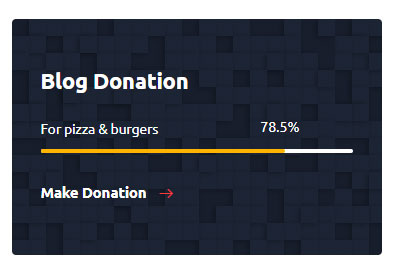 And a set of necessary product pages, which you could use to sell any products related to cryptocurrencies.
Just a basic set of features lots of themes have, but this set made Crypton a goddamn hit!
What we've got today?
Right now Crypton is a full fledge all-in-one cryptocurrency theme which can be used for any possible niche.

Today Crypton can be your online magazine, equipment store, or a coaching website.
Let's have a closer look at each of the new skins.
Online Magazine Skin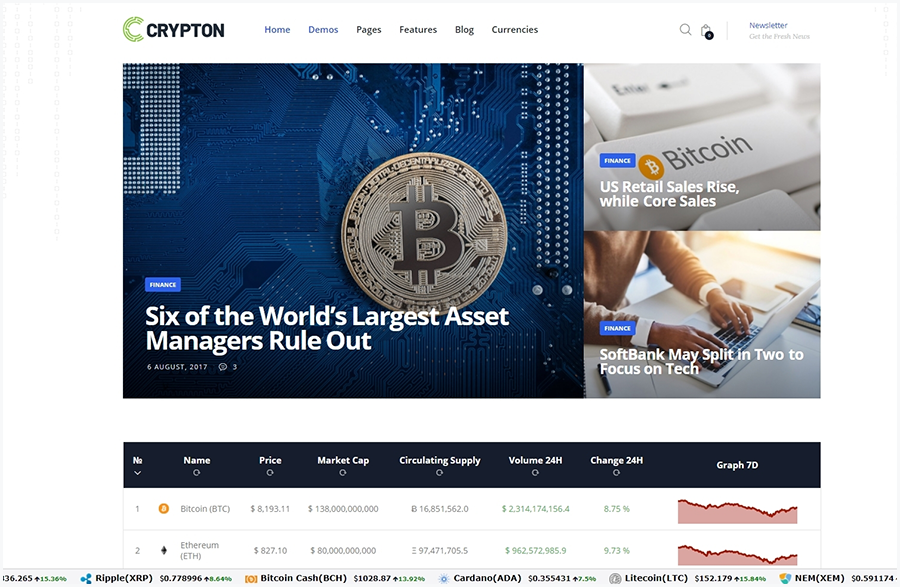 This skin has a few elements which amazed me the moment it loaded.
First of all, that's the creeping line. If you're watching BBC or any other news channel creping line is something you'll stick your eyes to and won't be able to move. In case with Cryton, you can see an up-to-date currency exchange rates.

Frankly speaking, I haven't seen such feature for a long time.
Next thing was the Matrix-like texture on both sides of the background. On the screenshot below I'm showing you the right side of the page.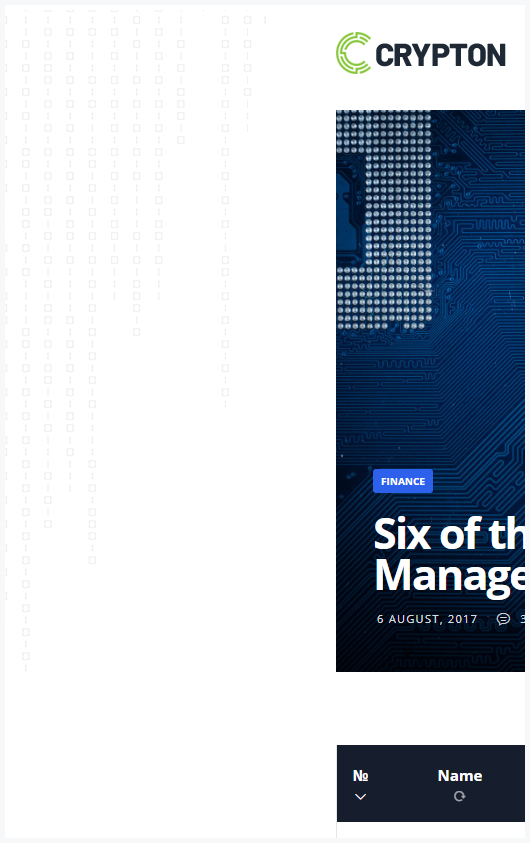 Right under the featured posts on top of the page, you will find the table with stats of the most popular currencies.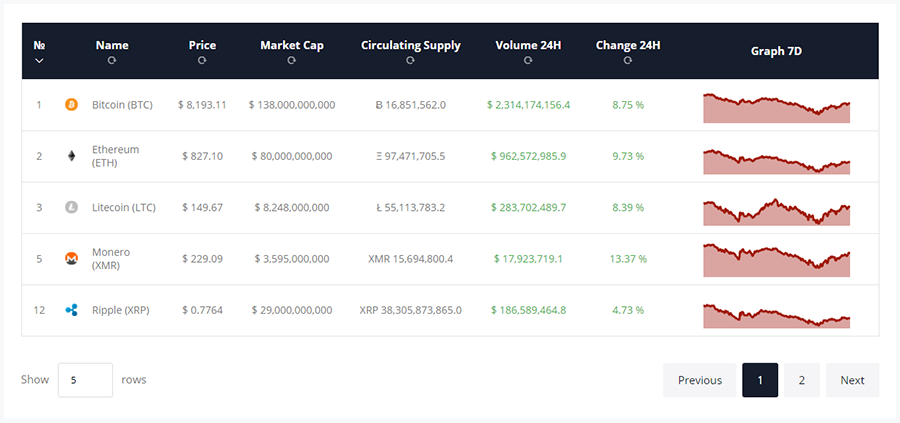 To get rid of the pagination you can show more than 5 rows.
Right under this table, there's a blogroll and bunch of sidebar widgets you've seen in the previous version.
The subpages include a set of items that represent various capabilities of the template. For example, a business page has a built-in video which plays in the pop-up window.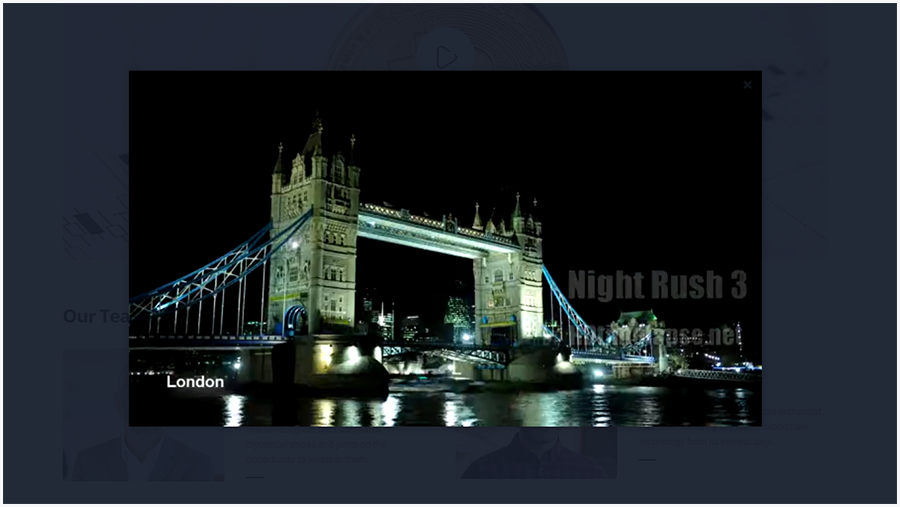 Investment and Currencies are the most notable pages.
The first one has a set of interactive graphs with hot points.

A second page, Currencies, contains major cryptocurrencies listed in a form of a table.
When you hit the Information button a relevant page will open, which contains detailed information about each item from the initial page.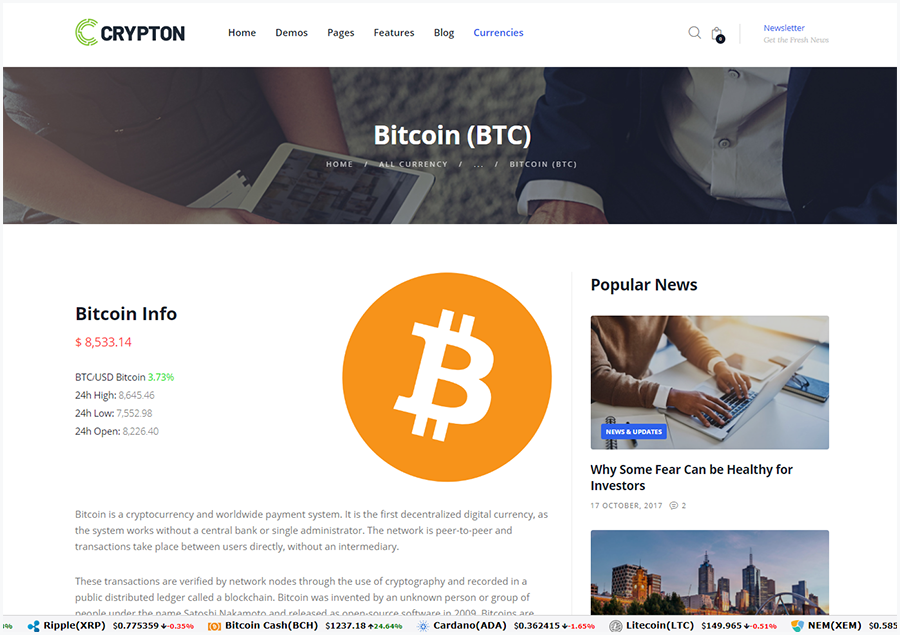 If you decide to stick to this skin, and you will need to make a store on its basis, no worries it contains a set of WooCommerce pages that will help you do that. You can check out the magazine's store pages here.
Let's move on to the next skin.
Crypton Shop Skin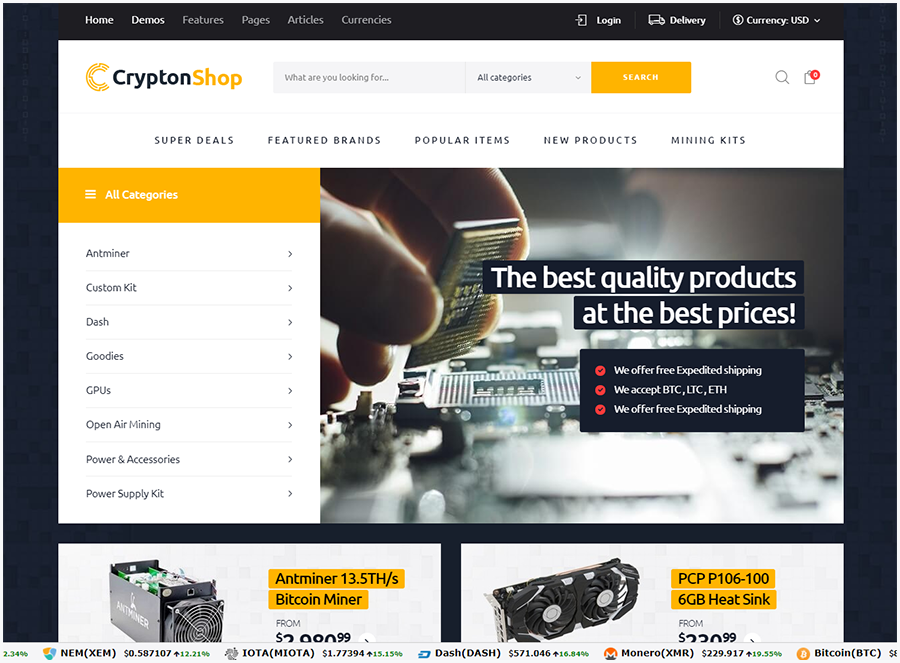 The store skin is a lot more advanced compared to the basic set of store pages in magazine skin.
On top of the home page, there's a nice block with store categories, slider (to the right of categories) and two featured products.
Right under this block, you will find four product items grouped under three "tabs".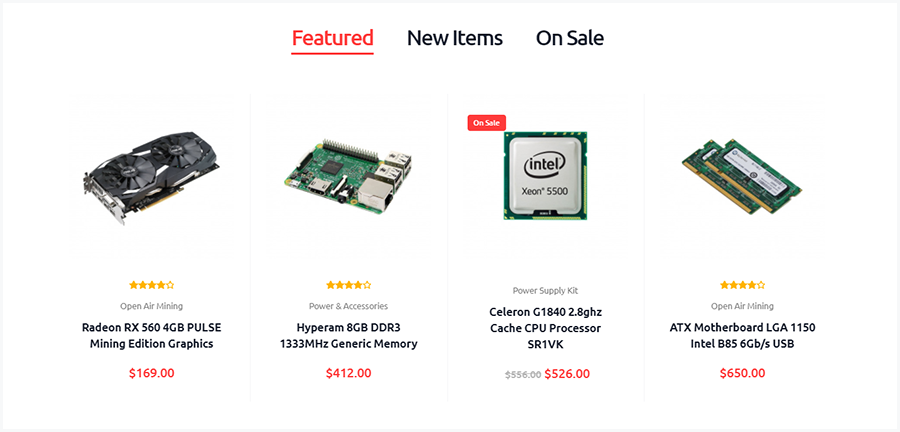 Since the template is powered by Visual Composer you can create any possible content blocks variations.
You can watch the DEMO to see the store in details.
Crypton Coach Skin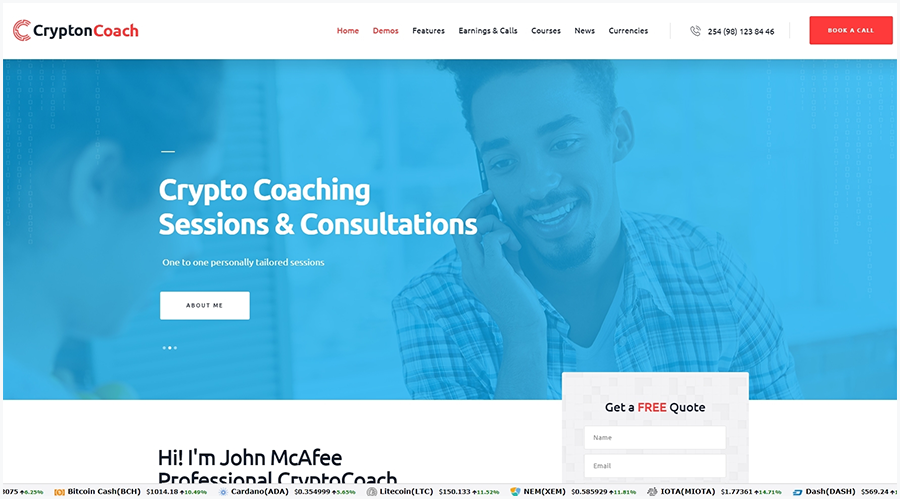 Since coaching is one of the most popular occupations these days, coach skin will be quite handy for you no matter what niche you're working in.
If you're a coach, do you want your site visitors to do first of all?
Of course, contact you! That is why there's a sleek contact form to the right of the coach bio, and link to his social media accounts.

There's a thing which can ease running a coaching business, that's a review. Customer reviews is the blood in the veins of the coach. With Crypton coach skin, you can have this beautiful reviews section.
In case you have a set of lessons or courses, you can showcase them via section like this.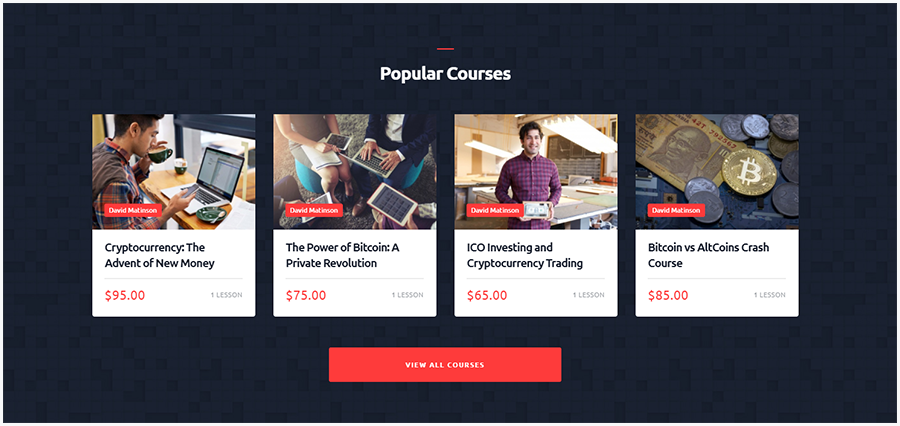 Tutorials and courses are created with the help of Learn WordPress plugin.
Just in case if you already have a free ebook, issued under your name you can give it out for free using a form like this.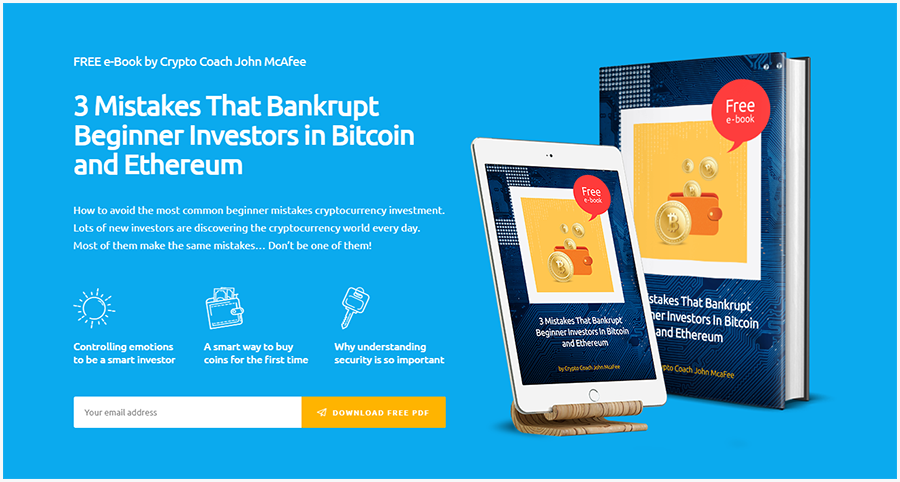 New Plugins
The first version of Crypton theme had this set of plugins:
Revolution Slider
Visual Composer
Visual Composer extensions bundle
Essential Grid
Cryptocurrency All-in-One
M Chart
ThemeREX Donations
MailChimp for WP
WooCommerce
Instagram Feed
ThemeREX Addons
Now the list is complemented with several new items:
Cryptocurrency All-in-one WordPress plugin

GoUrl WooCommerce

GoUCryptocurrency Price Ticker Widget

Learn WordPress plugin
Over to You
If you think that that's it, you're mistaken, my friend. Have you seen this?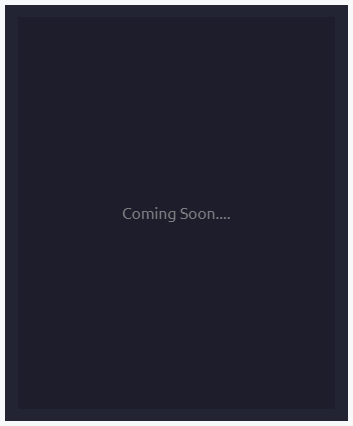 Do you know what does it mean? It means that in the next few months ThemeREX team will release another awesome update of the Crypton theme.
See you soon.