What's the best News WordPress theme you can find out there? Is it suitable for your project? I'm sure you asked yourself these questions, and more at least once in your life. This time, we give you a comprehensive review on ionMag, a fresh premium WordPress template, designed by the tagDiv author. ionMag is a neat, fast loading theme perfect for news, blogs, newspapers and review websites. If you are a 'technology early adopter,' we are happy to advise you to try this theme. It won't let you down. ionMag is responsive and retina ready, with adaptive blocks, pre-made demos and a surprisingly intuitive frontend page builder. With free custom widgets, Big Grid styles, various post templates, intelligent ads, smart lists, and the list could go on, ionMag challenges you to explore and experiment your wildest dreams in web designing your site. Are you ready to take a short tour of one of the most complete themes I ever reviewed?
Blogging these days is a real challenge, we all know that! You have to combine your creativity with a powerful design and give your visitors the engaging website they didn't even know they were looking for. The more visitors, the merrier. What if I'll tell you that ionMag comes with amazing & highly customizable features, that will bring out what's the best in you? In this industry, there are many authors that present a distorted reality about their products. They wrap a product in a good looking pack when actually the inside is a disaster that doesn't meet your expectations. Well, ionMag is really like it's advertised! And that is just the introduction!
The ionMag theme comes with five demos; you'll also find these predefined designs in the admin panel. You can click on the Default, Go Viral, Voyage, Tech Portal or Cook Book to install it. In just a few minutes, your website is up and running.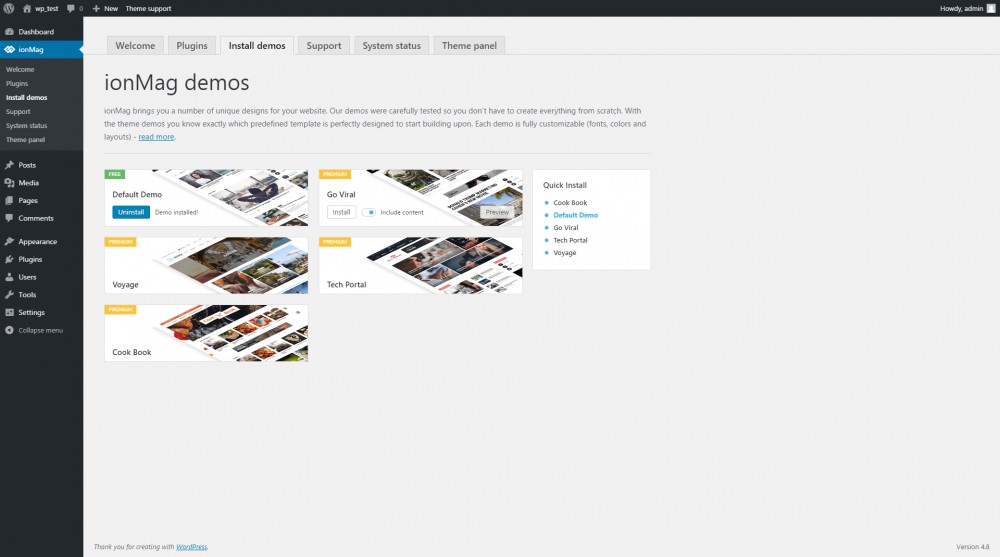 Now, hold your horses! If your website is brand new (without content), go ahead and hit "Install." The theme will import you everything you saw on the demo: design, content, pages, sidebars, menus, colors, typography and so on. If your website already has content, you need to make sure the "Only Settings" option is selected before you hit the "Install" button. Great! Now you are ready to customize your website and make it personal, unique, like you. Starting a website like this, it's a blessing!
Designed with the publishing industry in mind, ionMag brings you the tagDiv Composer, a remarkable page builder, enhanced with drag and drop functionality and versatile elements. tagDiv Composer lets you build pages right on the frontend of your website, without knowing a single line of code. With the help of a colored placeholder, you can establish where each element should display between other items. TD Composer is a powerful tool that helps you edit the content page, sidebars, header & footer and menus.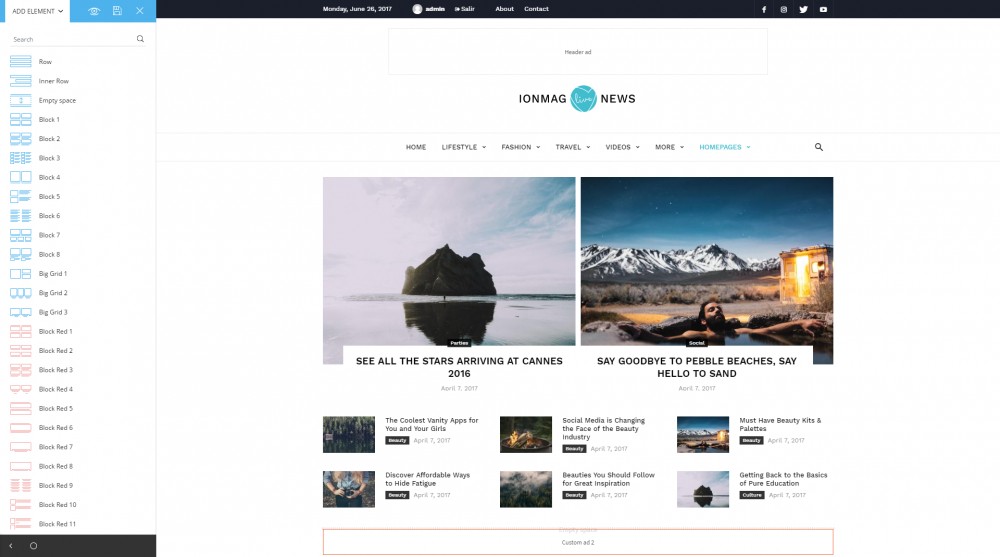 Do you want to display the most relevant news, articles on your website in an engaging way? Sure, ionMag helps you with this too. With over 30 Big Grids blocks and unlimited style combinations, you can do it easily.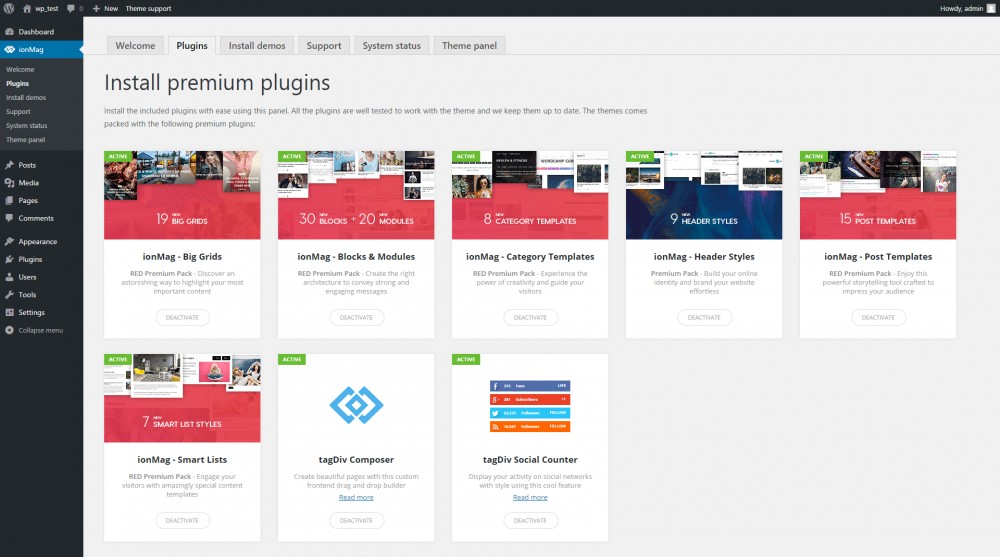 ionMag gives your visitors an intuitive way to navigate through the site' content as you can make the category pages unique and creative interfaces. For this, you can customize each one from the Theme Panel using various templates features, headers, grids and styles. 8 category templates, spectacular 29 post styles, and 20 more extra article display view modules - are just a few of the tools you can use to style the pages to be more engaging.
ionMag lets you set your favorite YouTube, Vimeo, Dailymotion or Facebook video as a featured one on posts, and display it with style. This way, you'll get your visitors focused on your posts right from the beginning. This option automatically imports the video's thumbnail from the network that hosts it.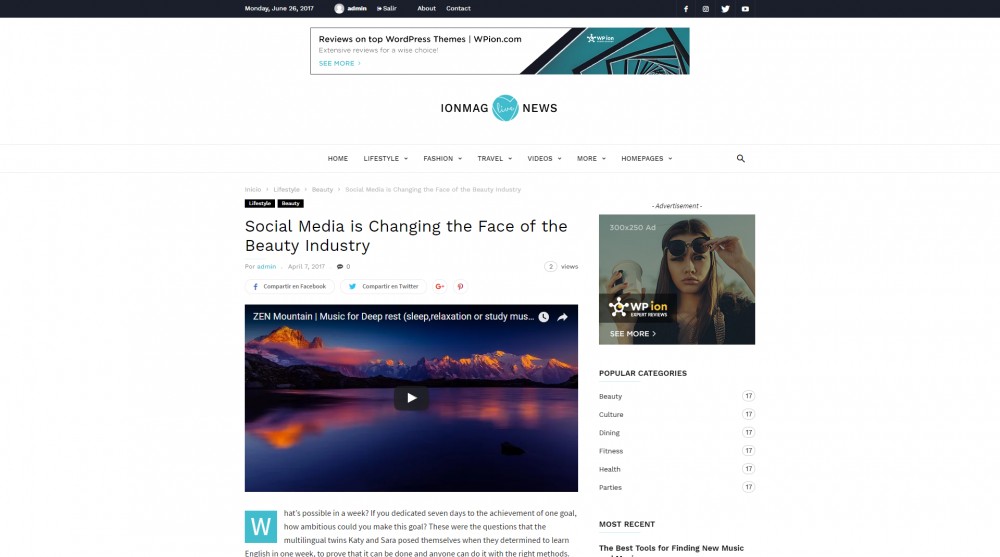 You know the feeling when you unpack a present to discover it's way better than you've expected? This theme gave me that feeling! ionMag Premium has an intuitive Theme Panel which keeps everything structured in tabs, right where you need them to be. Without any effort, you'll be amazed to check out the header, footer, ads, layout, block, pictograms, social network, background, fonts, and other settings. Starting with the above the fold area to the bottom section, each feature is highly customizable. Moreover, if you want to translate some strings, apart from the WordPress languages, you can use the custom translations panel.
Starting a website could be challenging, but making it profitable is definitely a hassle. I didn't have the chance to make extensive testing on the ad system, but the ionMag theme author gives you multiple ways to monetize your site. For example, you can insert adverts into over 19 different spots. The ad system is AdSense ready, but you can also use HTML or image banner ads.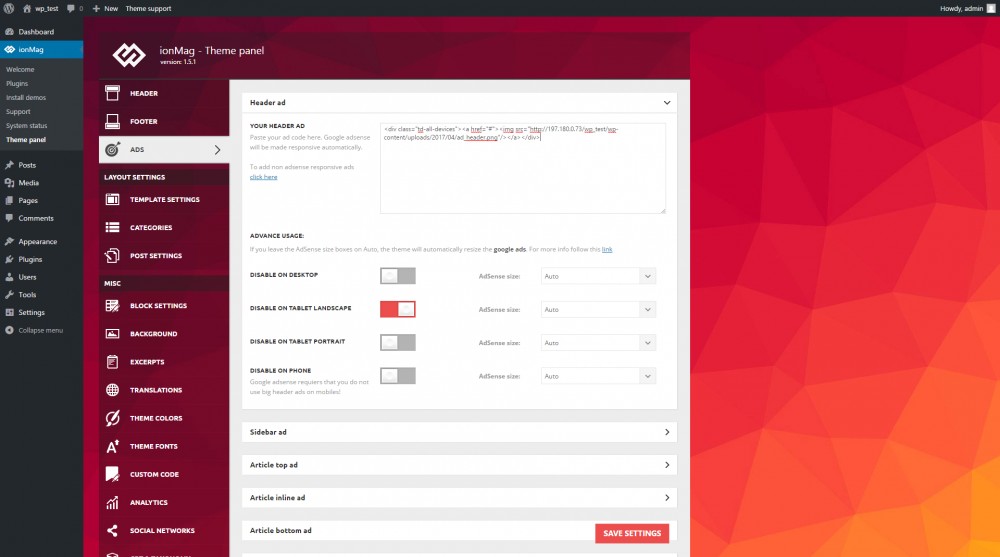 ionMag Premium is compatible with some of the most popular WordPress plugins like the SEO by Yoast, bbPress, BuddyPress, WooCommerce, WP Super Cache, Contact Form 7, Font Awesome 4 Menus, and Jetpack.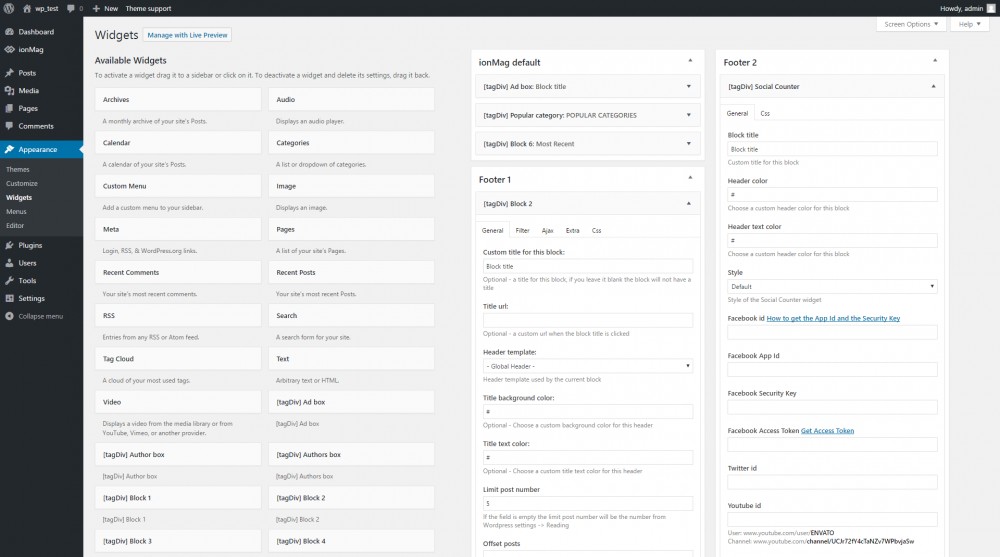 We like the ionMag Premium News WordPress theme, and we recommend it to all of you, no matter if you are a beginner or an advanced user. With the dynamic ionMag, your site can become professional. To cover all your queries, you can search through the detailed documentation, or simply ask the support team and community members.
Key Features:
Clean code, highly optimized for performance
Responsive and retina ready
5 elegant predefined demos
Extensive documentation and an enthusiastic support center
15 beautiful post styles
32 Big Grids blocks
25 modules to show posts on pages
8 smart lists
Smart sidebar
Customizable category templates
9 header layouts and 4 top bar styles
Lazy load effect
Ad System - 19 adverts spots where you can publish ad codes
Lightbox effect to show high-quality images in an impressive way
Custom-built drag and drop gallery with the lightbox feature integrated
A sticky menu that auto-hides on mobile devices
Custom Widgets: Social Counter, Instagram Widget, Popular Category, Ad box widget, Live Search with Ajax
Support for Typekit, Google Fonts, font stack and WOFF font files.