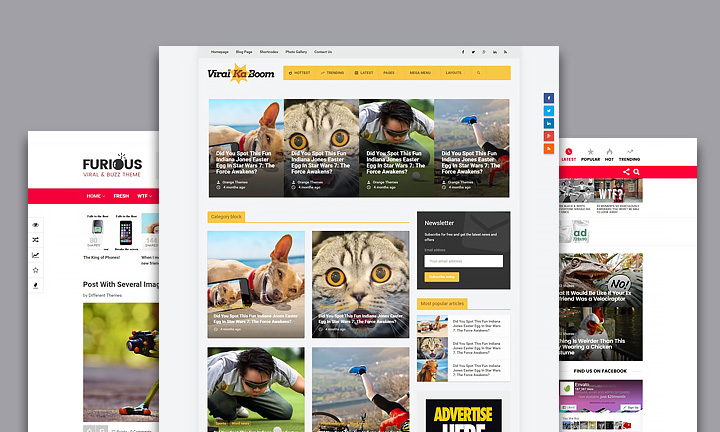 Viral WordPress Themes for Buzz & Viral Blogs
Fight with the regular Google algorithm updates is tiring and you can never be sure whether your blog tomorrow will be in Google results, or not. So, thanks to social networks, Viral & Buzz type blogs nowadays becoming more and more popular. Set up a Viral blog is very simple. You need to choose a hosting that can hold a large flow of visitors, as well as choose a WordPress theme what is designed for Viral & Buzz blogs. What's so special in this type of WordPress themes? Main feature in viral & buzz WordPress themes is social sharing. On every image and post must be share feature, and ability to upload user content as well.
On the Internet you can find very many collections which contain the Viral WordPress themes, but if you look into it seriously, then you will find that there is a random themes, where most are far from Viral blog. We've spent a long time looking for the right Viral & Buzz WordPress theme for you.
Viral Kaboom
This is one of the best viral WordPress themes for your viral or buzz blog. There is an option to share every post, decent space for advertising (and it is main goal for viral blog), powerful gallery builder and many userful shortcodes. I was tested Viral Kaboom for one of my friends viral blogs and found that Orange Themes PageBuilder is incredible easy to use. After theme activation you will be delivered to "one click" installation menu. Where you need just to check what you need for your blog and click on "install" button ( check out one click install video tutorial ). After installation all necesary plugins will be added and you can start to configure your main webpage. On WordPress "pages" section you will find "home page", where you can just drag & drop modules and build your viral blog within minutes.
If you want to build your Viral blog fast and easy, then definitely recommend Viral Kaboom.
Bundy Viral Theme
Bundy is all-purpose viral blog WordPress theme with a trendy design and easy customisable layout, full of viral and exclusive features. Populate news, gifs, videos or quizzes, spread them via social networks and drive bloggers community and monetise with any type of ads. One of the best Bundy features is sign-up using social network accounts, you don't need to provide your e-mail and other stuff, just click on button and you are signed. The main focus is on social sharing buttons, and there are many of them. There are also option to up/down vote on articles and You can add to your website an unique and unseen drop down menu, that helps your viral & buzz blog to stand out of the crowd! Overall, Bundy is very carefuly crafted WordPress site, that is perfect for Viral & buzz blog. Go viral right now!
Bimber
Bimber is number one selling theme on Themeforest, because Bimber was the first who packed the magic word "viral" in the simply blog theme. This is not the best choice, because Bimber use almost every second Viral & Buzz blog and why you'll be similar as the other? If you want to stand out, then made your blog with unique design, write unique posts and be different.
And whats about features. Of course, Bimber is packed with all necesary options and helps you to build powerful viral & buzz blog. They have social share buttons on every post (and images as well) and few months ago they added "user content upload" feature. This is small, but powerful help for your blog content generation. Overall, if you want to chose trusted values, then go for Bimber!
Furious Viral Theme
Another great WordPress theme for your Viral Buzz blog. Furious was first theme which introduced option to upload user content and registration via social networks as well. Theme have "one click" install feature and this helps you to build your viral buzz blog withing minutes. Every post have social share feature and shares counter. There are infinity scroll option for posts on the main page, of course you can disable this feature and give visitors a chance to show your footer. Furious is very similar to 9gag, if you want to build something similar then go for Furious.
Bunchy
If you want to build something similar to boredpanda.com and ebaumsworld.com then give a chance to Bunchy. This viral wordpress theme main feature is open lists, what allows users to upload new content to published blog posts and vote up/down for the best submitted content. Snax is the name of this magic plugin which gives you an oportunity to upload user generated content to your buzz blog. But if you buy Bunchy, then you receive Snax plugin as bonus.
BoomBox
Very colorful, very loud, it's a BoomBox! The main feature is option to convert gifs to mp4 on the fly! BoomBox is Viral WordPress theme that can help you to build boredpanda, 9gag or any viral & buzz blog. It has 6 awesome home page demo variations, all with different features, excellent for any kind of viral blog. BoomBox is a userful and powerful viral WordPress theme developed using the latest viral blog trends. Add links to your social media profiles so you can connect with your fans on their preferred social media network. BoomBox strength is the amount of advanced buzz & viral blog features it offers. If you want to build your viral blog and earn from social networks, then this versatile theme has a lot of offer.
Disclosure: This post contains external affiliate links, which means I receive commission if you make a purchase using this link. The opinions on this page are my own and I don't receive additional bonus for positive reviews.